Friday, November 23, 2007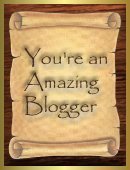 I am way behind on all the awards I have recieved in the last couple of weeks and months but this one warmed my heart. I can't pass it on but I can share it with you all.

I have been having a rough couple of weeks...and this week I have had to deal with a pinched nerve in my hip. As a mom it's funny how nothing can slow you down. While my husband was at home I would just swallow the pain and when he was gone I would weep into a pillow.

But today when I saw this award dedicated to me, it warmed my heart....thanks TeacherJulie!!!

This is what she wrote about me....

Taylor Blue.... tireless, that's what you are, amazing how you can sustain a number of blogs. You give the WAHM a good name.

So thanks girl...you made my day!!!