Friday, February 22, 2008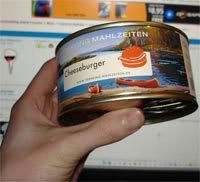 Yup, I said it...a cheeseburger in a can!! I first saw this over at Promomaker by way of my email. And I have to say I can't believe it...watch these people eat it...
What I don't get is that the can is hot after you take it out of the water so how can you open it? If you wait for it to cool then the burger is cold. Catch 22 I guess....